Pink Nail Designs are one of the attractive and glamorous nail art designs you can have for any event in any season.
"Pretty is Pink" you must have heard it a lot everywhere and pink is also the favorite color for girls and today you will see how pink color nail art will make you glamorous because we have 15 Pink Nail Designs for you.
Pink is a girly color and that's the most wanted reason you should pull off pink nail art designs because these will make you girly, glamorous, feminine, hot and they can be worn with any type of dress you have especially in light colors.
15 Pink Nail Designs For All Seasons
Let's see the different combos of Pink Nail Designs choose the best one which suits your personality.
1.Pink and Gray Ombre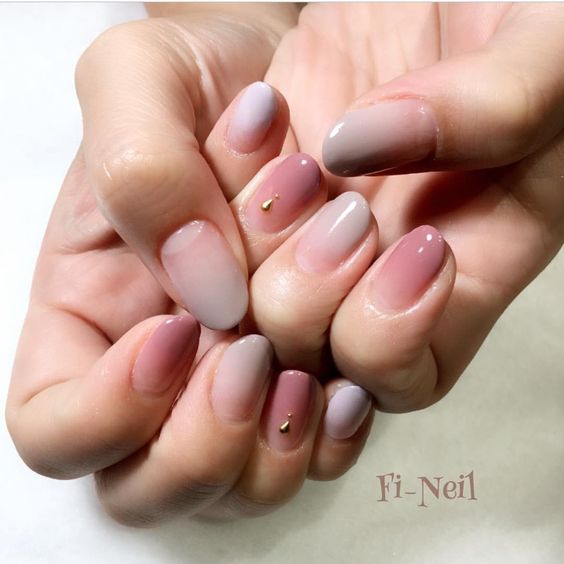 If you are looking for simple contrast colors with pink then try gray because of its classic and dull color shade it will suit you during the day events of the summer season.Just see the above image and do the same pattern of colors as shown.
2.Pink with Black Spatter Lines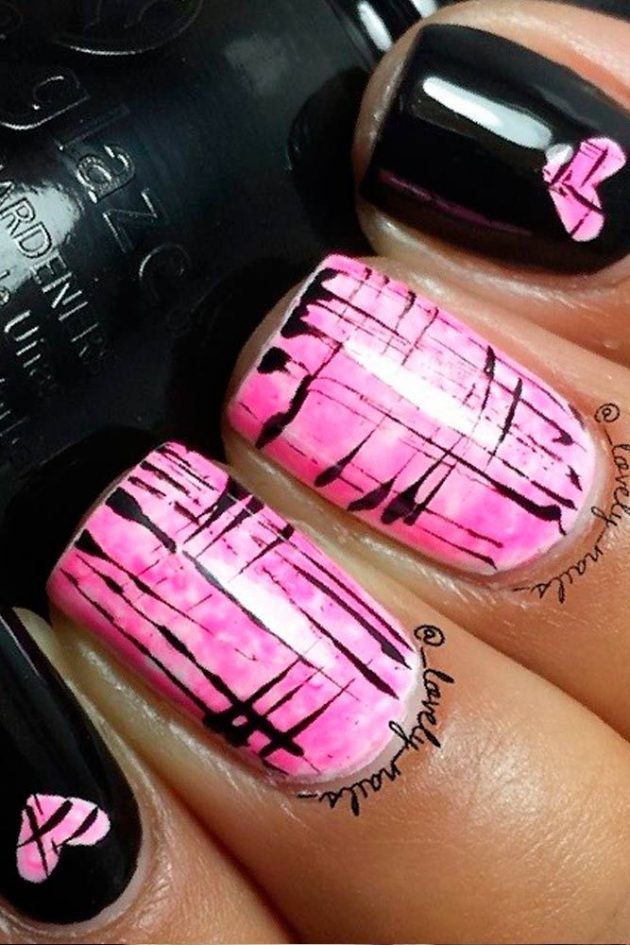 This is a classic teenage pink nail design having black lines making it funky color looks best when you are going to college or having a party with friends.
3.Pink and Gold Mirror Coffin Nails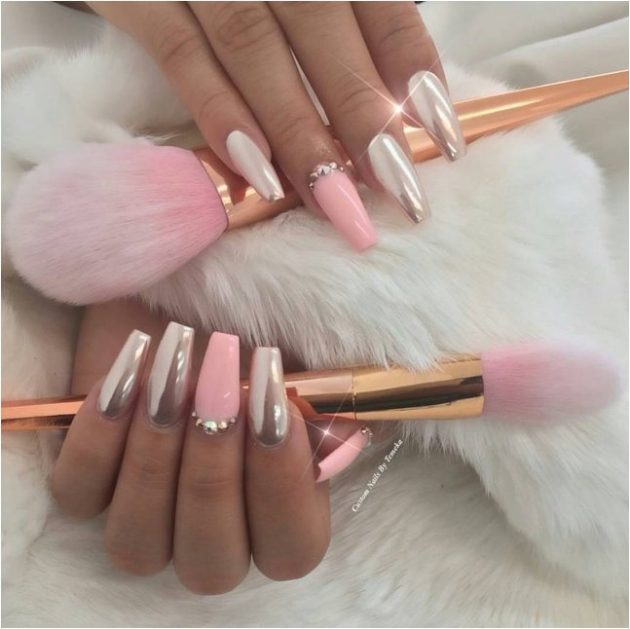 If you want to look more glamorous and want to have the best pink nail design for the formal events then this one is for you.Add some gold and rhinestone accessories and you are ready to go on special occasions with stylish nails.
4.Dark Pink Black and Silver Nails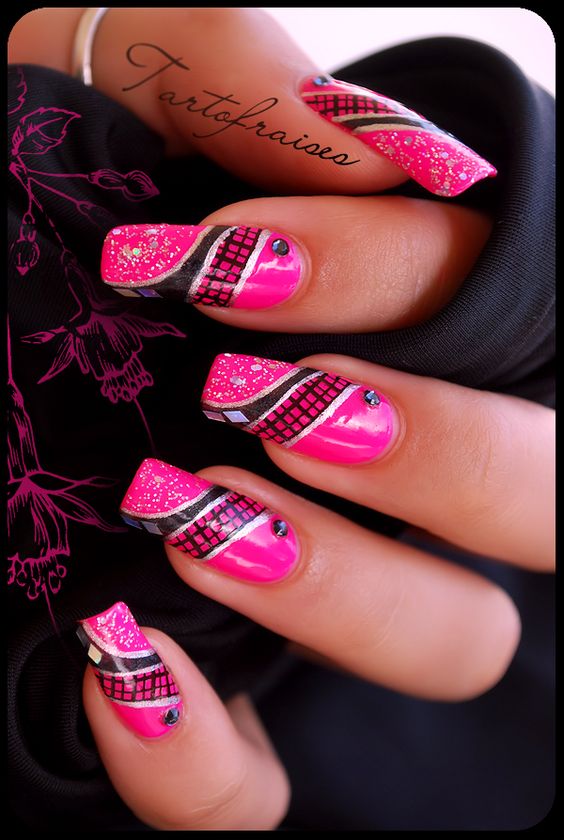 Again a teenage pattern with lot's of colors and patterns involved shining silver color is added to make your personality more attractive.It's best for the teen girls for college and prom parties.
5.Pink Marine Stiletto Nails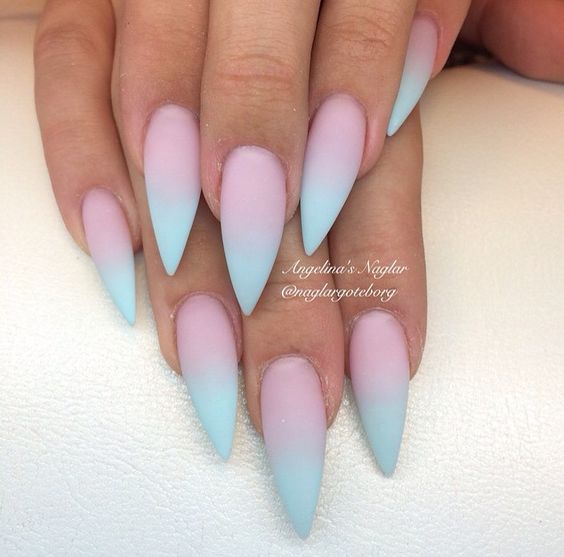 Pink and marine colors are opposite to each other that's why this pattern is hot and will make you look stylish anywhere you wear this nail design.It has less pink and more marine so a different combo from all these 15 pink nail designs.
6.Two Tone Pink Nails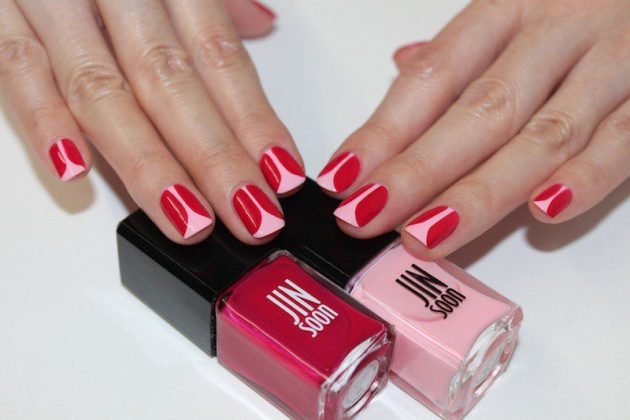 Pink color has lot's of different shades you should try them see the above image two tones of pinks are used one is light and other is darker you can wear this nail design with dark colored dresses.
7.Pink with White Accent Nails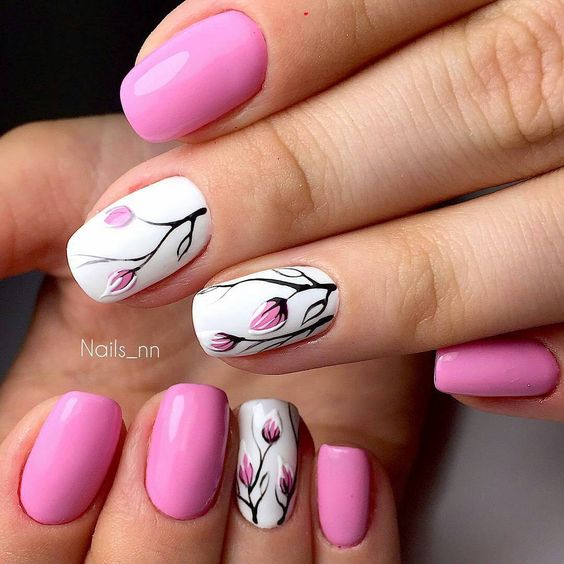 This pink color nail art combo is for the weddings and special occasions the accent white nail with tree designs makes it more interesting and will look classic on you.
8.Pink Ombre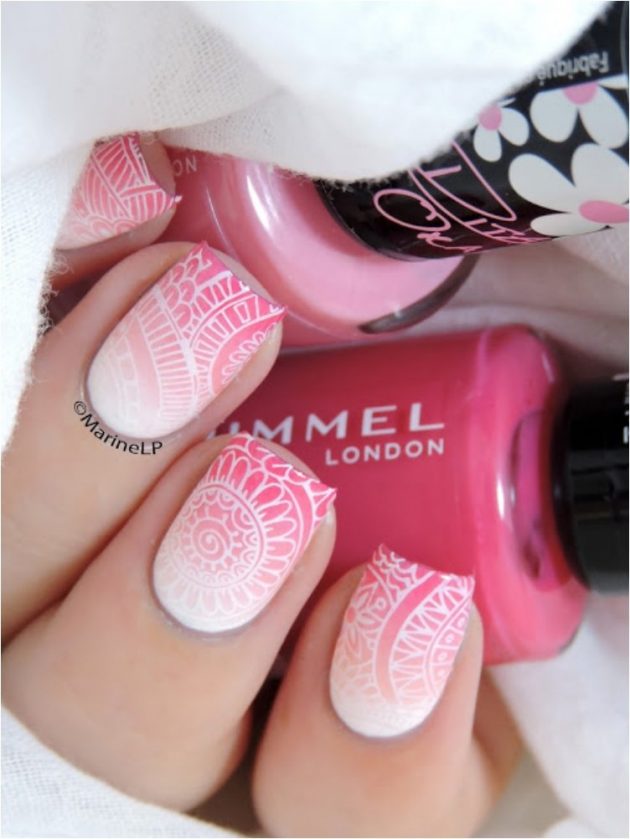 This design is for a woman who likes to do experiment a lot with their nails.Pink ombre nails have many different combos you can use your own creativity or draw the one you are seeing in the above image.
9.Light Pink with Black and White Dots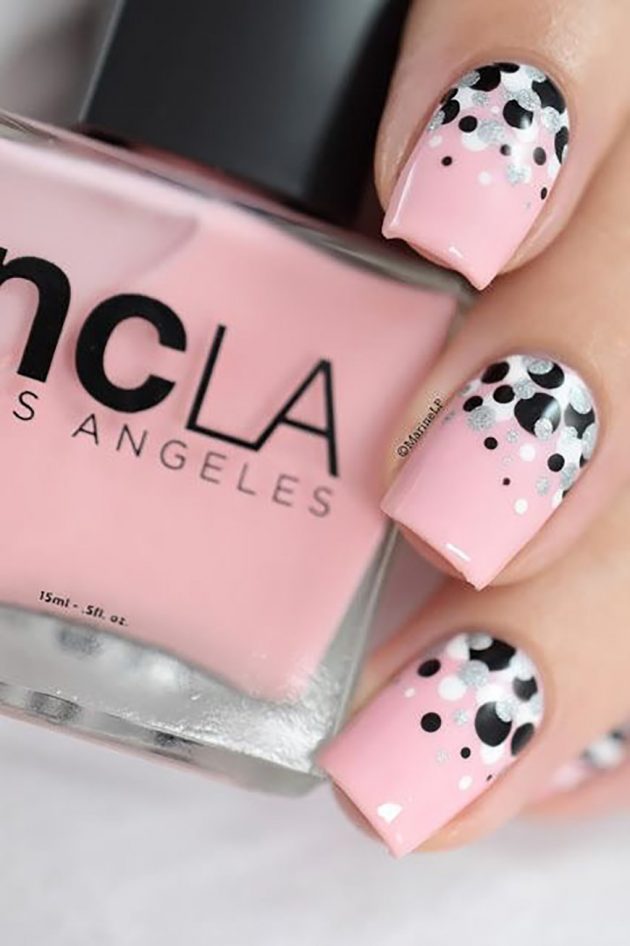 This pattern is for young girls for their party look just use the light pink color and draw the white, silver and black dots on your nails.
10.Pink Gradient Nails
Apply all shades of pink on your nails in gradient fashion and they will look stunning one of the best combo you can wear with light colored dresses.
11.Lined Waterfall Pink Nails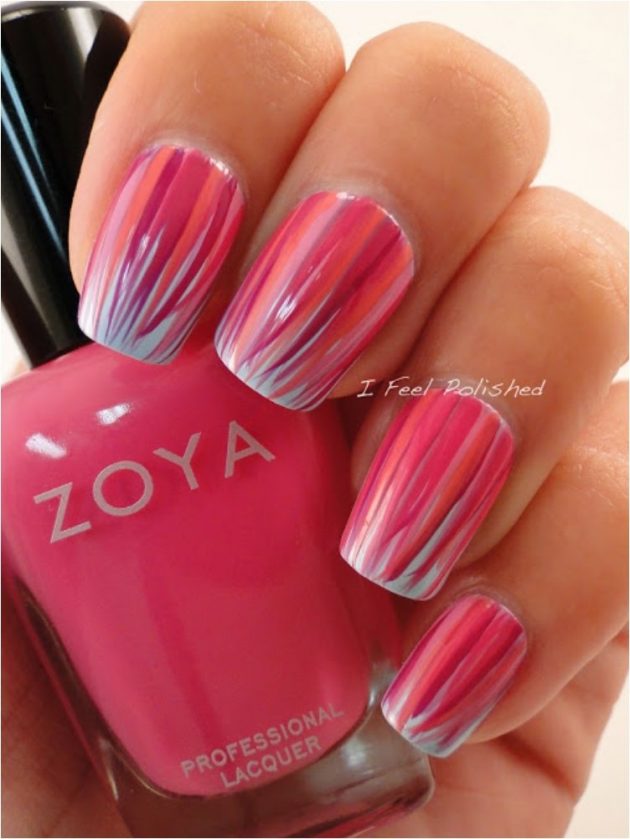 Use pink shades in waterfall style you can use peach colors too it looks best when you are going out for a social gathering or any other special occasion where you want to look great.
12.Baby Pink with Naked Stripes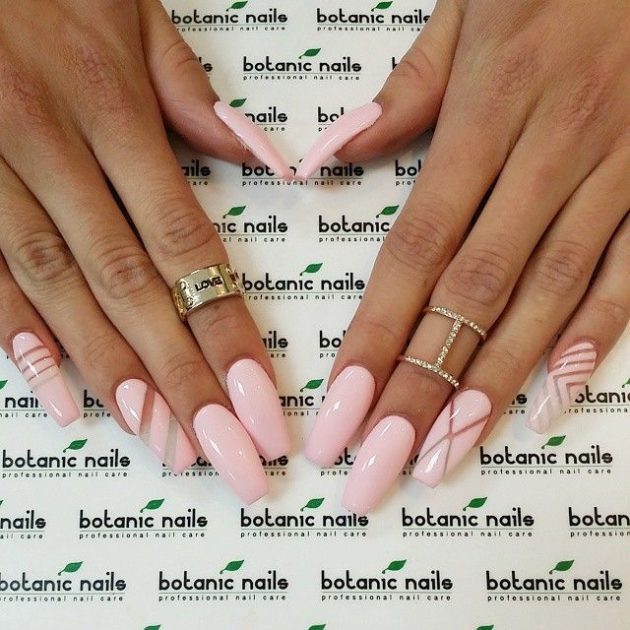 Baby pink is the most romantic shade of pink color.In this nail design, naked stripes are making this nail design more interesting you can draw different patterns of stripes.
13.Pink Dream Catcher Nail Art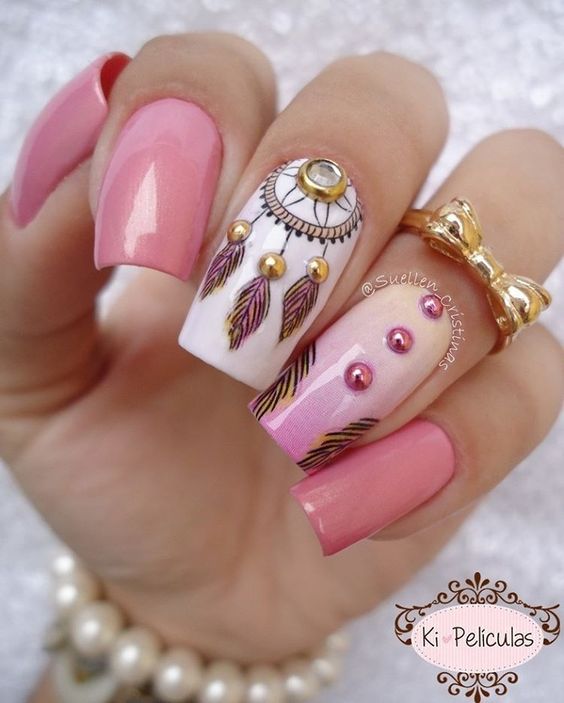 Here pink color is used in different tones with other color designs and some accessories are also used to make your nail design more prominent.
14.Pink Flower Accent Nails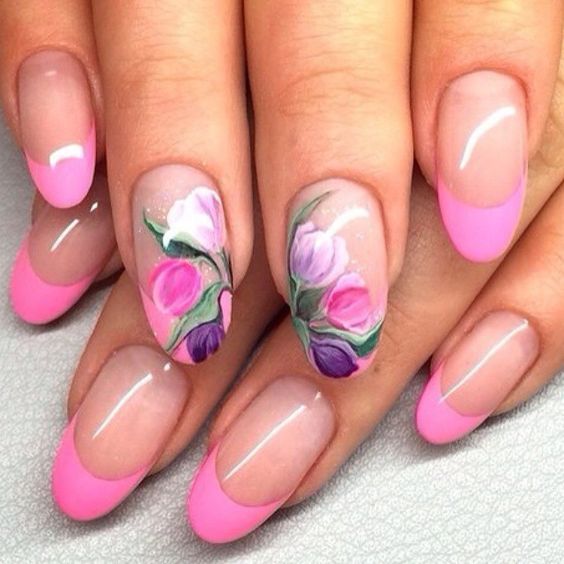 Beautiful flower design on nails makes this pink nail design more interesting not just flowers other nails are in simple skin color tone with the lower area in light pink.
15.Pink Rhinestone and Lace Design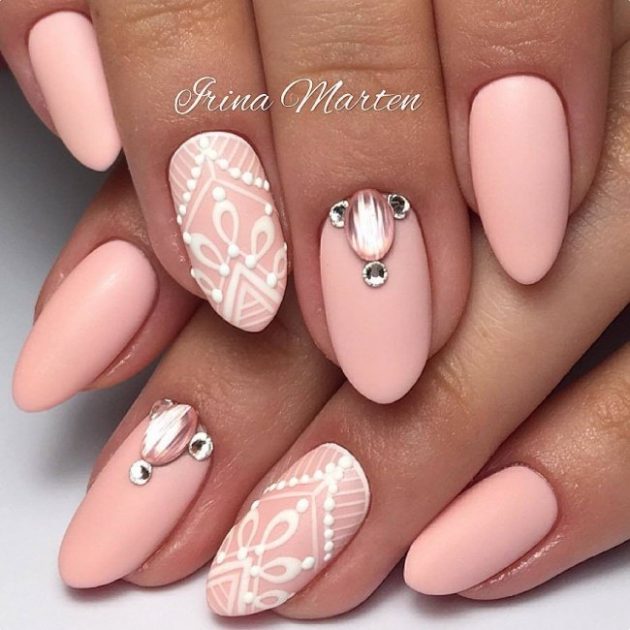 Pink lace design with accessories will make you stand out anywhere you wear this nail design it's simple, girly and classic and you should wear it often.
These are the 15 Pink Nail Designs that you should pull off in all seasons these combos are best for young girls.
See More:-Ice Cream Nail Art Designs