Samia Ahmed Fancy Eid Collection have different types of dresses that women can wear in home or whole going out lets check out the designs.
Samia Ahmed is famous evening wear and fancy dress designer this Eid she have launched more artistic type dresses that are not much seen commonly in the market.Very different types of dresses were launched for young girls that they can wear casually and formally.
This type of clothing shows more of designer thinking then the public interest most of the collections launched everyday are for business and to generate income.While some designers design the dresses for their passion and art work.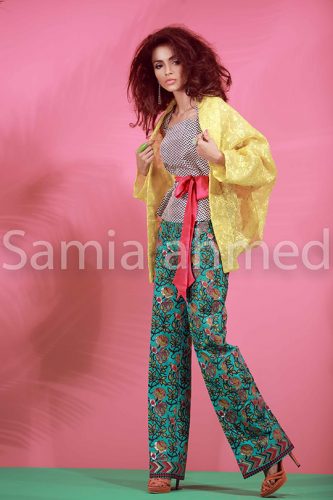 Samia Ahmed is one of those who will show you her creative innovations in her dresses in this collection you will get tulip shalwars with different types of tops that are off shoulder tops,jacket style shirts.
Some dresses are with flare pants and cigarette pants which is the new form of trouser being used now a days in fancy collections.Design patterns are unique containing zigzag,floral and abstract art prints.
Light fabrics have been used because of the summer you can wear it in sunny days also where you have to go out under the sun.Thread work is smartly done covering most part of the dress and giving exciting stylish look.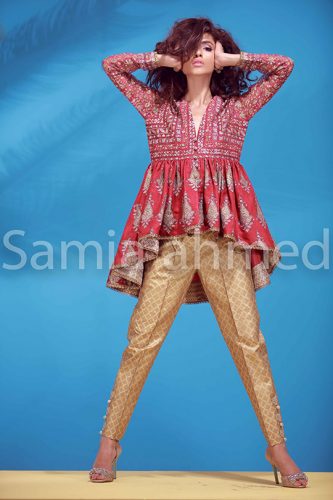 Some dresses have belts which will attract young girls because they like that type of style to try on special occasions.Not just fancy you can see traditional kurti trouser also that have tribal embroidery on it.
Every dress is different from its design and art work there is something for every fashion lover if you want to try something different in Eid day time then Samia Ahmed Fancy Eid Collection is for you.
Check out all the designs of Samia Ahmed Fancy Eid Collection from the following gallery and see work of an art that is designed specially for the art lovers.
See More:-Eid Ul Azha Pret Collection