Net Lawn Embroidered Kurti Collection is perfect for hot and humid season where you will be sweating a lot check out all the designs from this collection.
As summer is approaching hot and humid conditions will be in the southern part of Pakistan these weather conditions demand light and thin fabrics.Many brands have already launched their summer collections in the form of lawn.
Lawn is the only comfortable fabric that you can wear all day long in summer heat as your casual or special occasion dress.Orient textiles have launched Net Lawn Embroidered Kurti Collection which have the net lawn fabrics on it.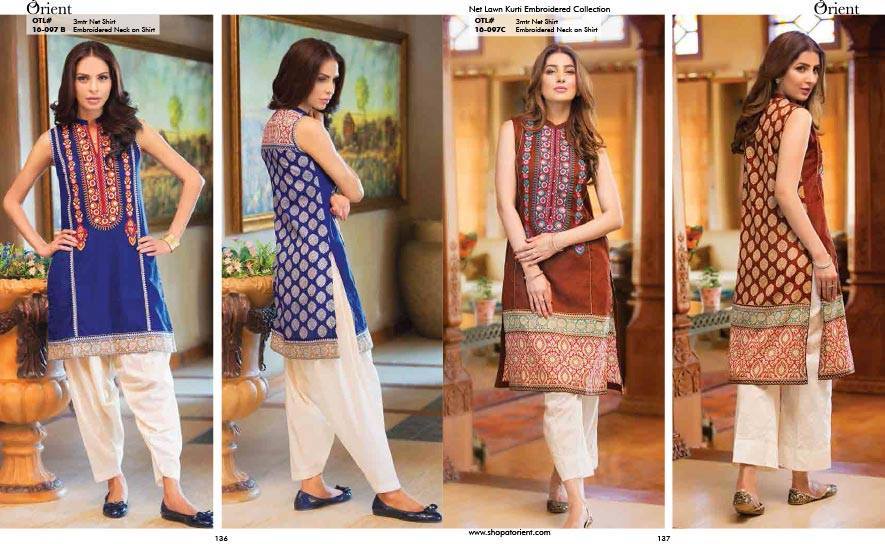 Orient textiles is working in the industry from some time now and have become one of the common household clothing name in Pakistan because of their unique designs and patterns of traditional art work.
Their dresses portrays the eastern women style statement most of the work of prints are inspired by handicrafts.Orient is another brand that will launch so many collections in one season like you have seen the trend from the top industries.
This collection is trendy,simple,sleek and stylish in terms of designs,art work and cutting style everything is perfect for women.Lawn will be worn by women of every class and age group from elite to lower class printed shalwar kameez in lawn are seen every where.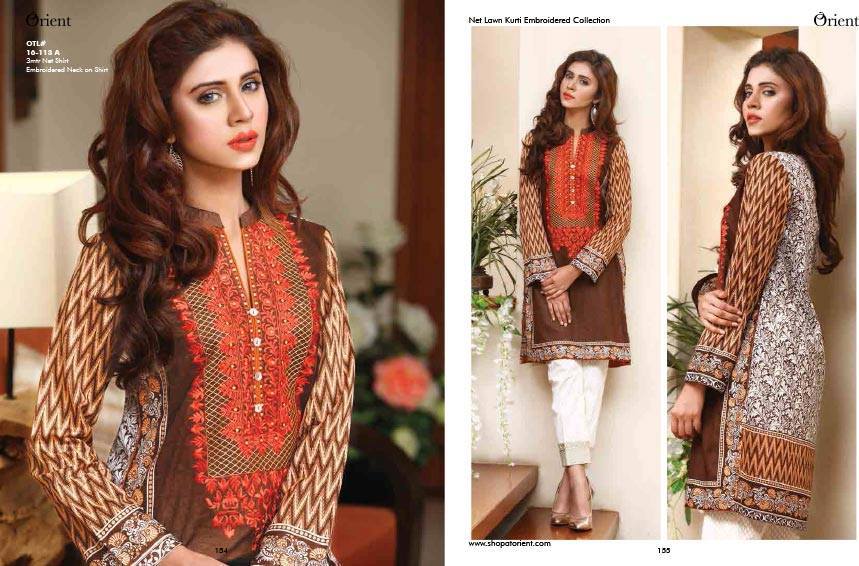 Kurtis are the form of tops that are most famous these days because you can get ready in just minutes by wearing kurtis with your favorite jeans or trousers or even shalwars.Kurti is also most famous dress type for young girls because it had style and can be worn anywhere and style accordingly.
Kurtis will always be ever green and in fashion and we can see every brand is coming up with their unique kurti designs like you can see in Net Lawn Embroidered Kurti Collection.There are some brands who only will launch kurtis like Ego they are famous for their kurti/kurta dresses you can check their work in Ego Summer Casual Wear Kurta post.
Orient summer collection is also huge but with some limited designs available to buy it included chiffon and 2 piece and 3 piece lawns.Kurtis collection were more seen this year in the form of embroidered pasterls,jacquard kurtis,urban essence and now this Net Lawn Embroidered Kurti Collection.