Geode Lips is a trend of lips in geode colors which are trending nowadays in different makeup art forms now check how you can apply it on lips.

Geode color is trending this season and can be worn in different ways whether it's clothing, makeup styling or anything you can have it on yourself as you like.
Today we are going to show you Geode Lips which is part of our Geode color trend series which we have been sharing from few weeks.
Geode Lips
We all are amazed from the textures of the geode and fashion bloggers around the world are showing how you can use it in different ways.
After trying Geode in other art fashion experts around the world are showing how you can use it as a lip art.
This lip art trend cannot be put on every day because of the color combinations that will suit only when you are going out somewhere and wants to look different.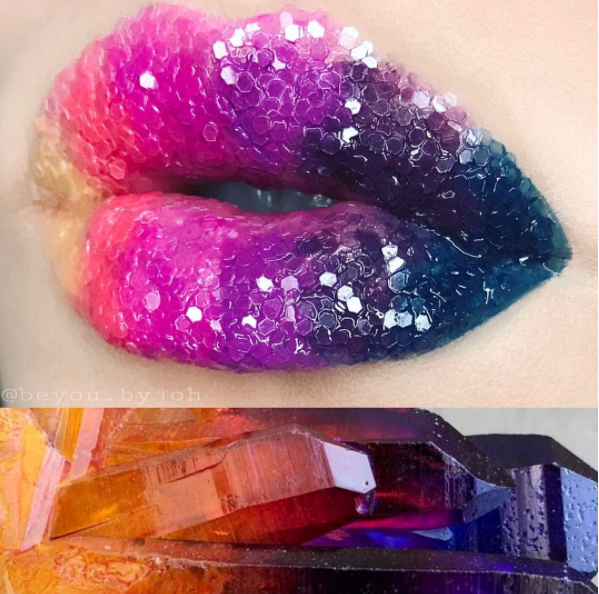 Geode Trend in other forms:
These breathtaking stones are in amazing colors that are inspiring makeup bloggers to create something special.
These colors are creating magic wherever these have been used and stylists are quite smart to use them in a better way.
This is the ultimate and fastest growing trend on the internet in the fashion field.Because of its rare colors, everyone can create a unique combination.
If you want to create Geode Lips then you have to be creative and a person who can play with colors because it's a color game.It will require you to use your creativity only then you can create new combinations.
Otherwise, you can always copy these premade designs shown by makeup experts.As you can see from the pictures different shades of textures are mixed to create the dimensional effect.
To create the rough texture you can stick sugar to tour lips it will recreate the natural color of a geode.It's a hard work not easy to do if you are a newbie.
Even an expert will take the time to do it because to create textures is not an easy thing to do.Geode Lips is an art that everyone wants to create because of its uniqueness it will take some time but at the end, results will be amazing.