Outdoor Kitchen Designs are constructed in the garden area or near the swimming pools where people can cook while having the party.
Outdoor kitchen designs are same as indoor kitchens just one thing you will find different is the construction place.Indoor is inside the house and outside kitchen is build near the area where you want to have party and have a good time with friends and family.
This is one of the luxurious designs that you should see if you like partying and spending time with friends.Not just a party you can have any event at your house near the kitchen and have the food ready in minutes.
Designs are different some have the sitting arrangement for the people to eat inside the outside kitchen area.Some will have only the baking area people can eat anywhere near the swimming pool or in the garden.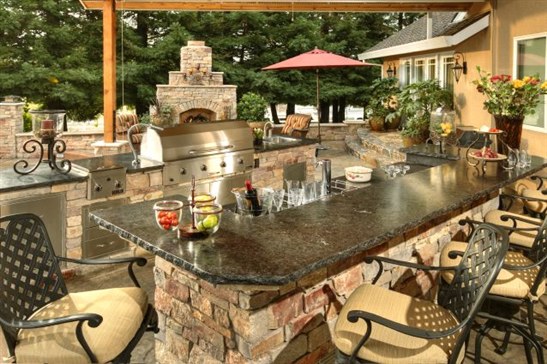 This kitchen design can be quite useful if you have lots of people at your house and you want food to get ready in minutes and served quickly.Then outdoor kitchens are the best choice on the other hand it is also giving your house a luxurious look that most of you desire.
Because its a unique idea not every one tries this in their houses so you should defiantly try any of the designs shown.You don't have to spend much in these types of kitchens just simple things can make up the good work for you.
But there are some side effects  of outdoor kitchen designs that is related to weather if its raining or snowing(only in specific areas) then all of the things can be messed up.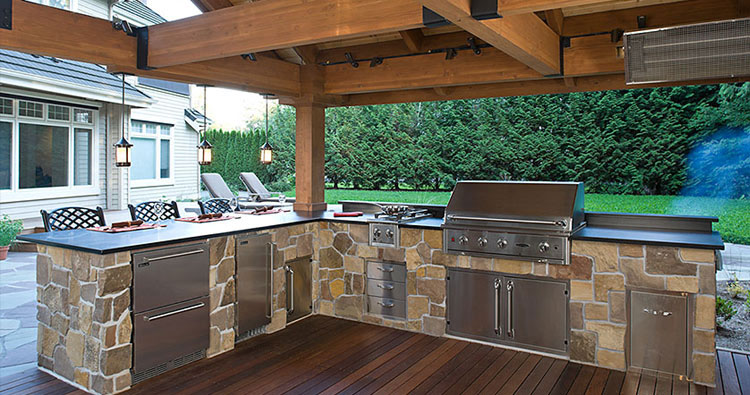 Because most of the designs that we are going to show you does not have the roof you can have the wooden roof or some other covering things to save the kitchen from rain.
Some will use stones to make the roof of only on the outdoor kitchen area that would be more exciting design to look for we will share some outdoor kitchens with roofs designs too.
Make your events more memorable by having the kitchen in your outdoor area enjoy Bar B Q or outdoor dinners with friends and family.
You can further consult with your builder about how to protect the kitchen in rain and snow for now check the Outdoor Kitchen Designs from the gallery.
Outdoor Kitchen Designs