Easy Braid Hairstyles are simple and can be worn anytime with any dress find out 30 of the best braid hairstyles for this season.
Braid hairstyles have been in fashion for a long time.Girls with long hairs always used to have the braided hairstyle in the Roman era.
There are many styles of braids that you can have on your long hairs.But nowadays girls used to keep their hairs short and stylish which some of you think are not meant to have braids but you are wrong.
Below we have 30 different ideas of braids for a woman having long, short and medium hairs.
30 Easy Braid Hairstyles
1.Simple French Braid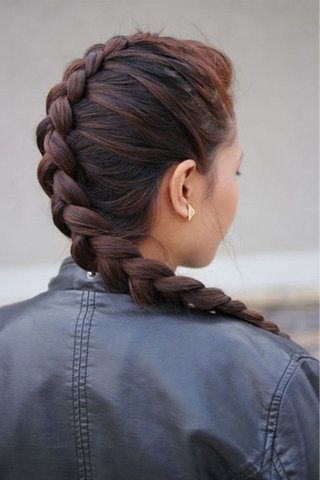 This is simplest and easy braided hairstyle which are mostly worn by school girls.It is common and gives you a classy look can be tried on any outfit.
2.Fishtail Braid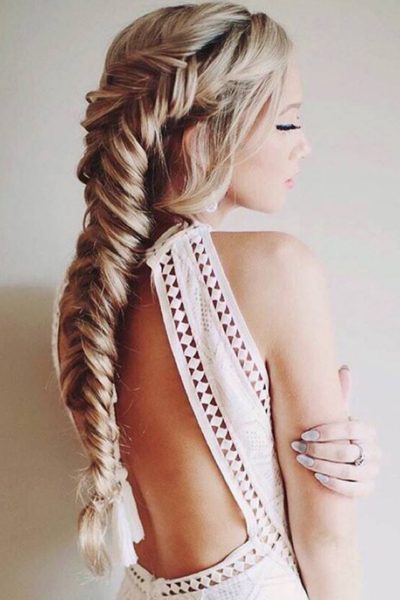 Fishtail braids are another young girl hair trend that can be worn on special events it has an ending tail like a fish tail.These hairstyles are fun to have and can be worn while going out anywhere with your summer outfits.
3.Side Braid With Half Curl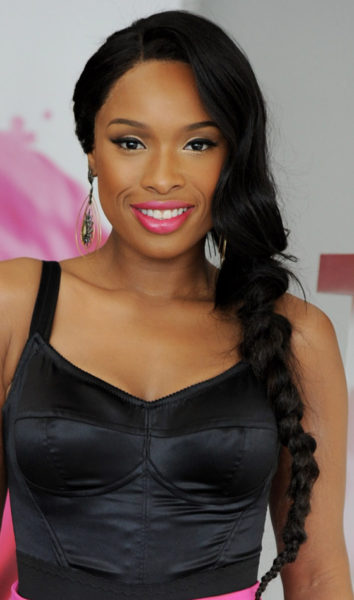 This is again one of the easiest braids to do it's also vintage and will never go out of fashion.You can wear this hairstyle on evenings and on social gatherings.
4.Messy Fishtail Braid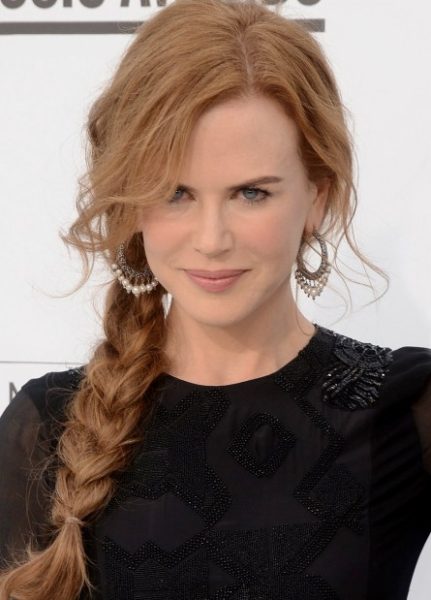 A messy hairstyle is itself a complete hair look that can be done with other hairstyles.Fishtails are one of the most popular braids around and you can have a messy braid to give some more style to your hairs.
5.Braided Bun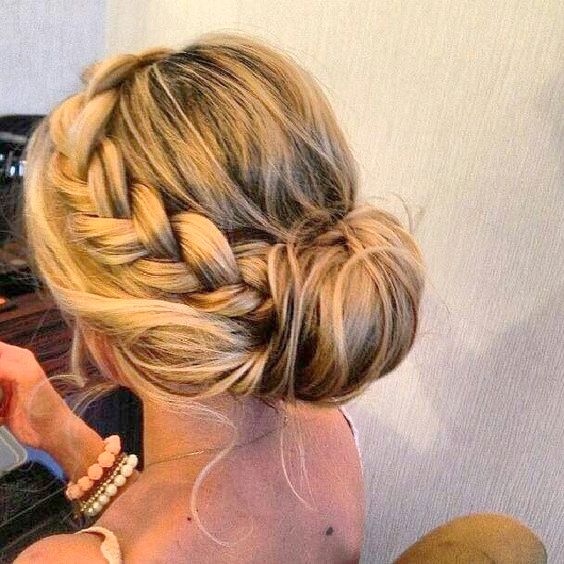 Braided buns are worn on summer weddings this is another two hairstyle combos in which french braids are tied up in a bun.Bun hairstyles are common in summer days you should wear it on ceremonies like the wedding.
6.Braided Updo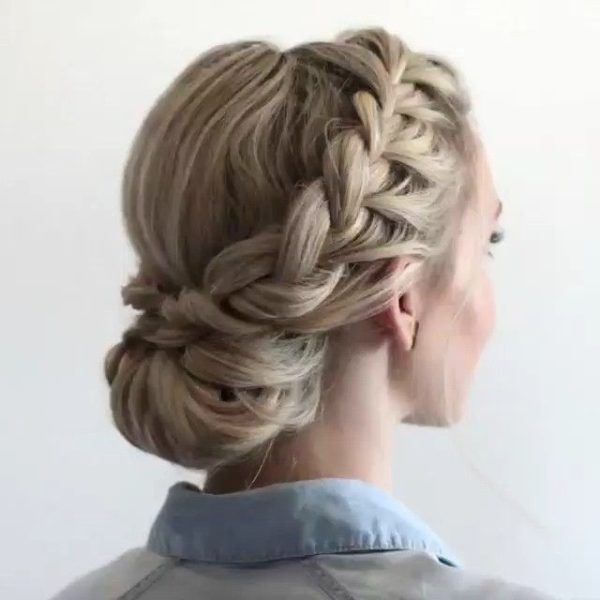 Braided updos are similar to braided bun but there is a slight difference in updo's hairs are put together on the back but not as a bun.It can be worn on any special occasion like weddings or social gatherings or even sometimes casually while going out.
7.Messy Bangs With Crown Braids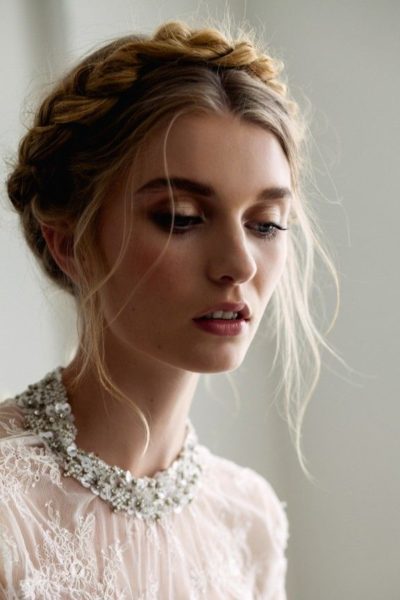 Crown braid is a popular hairstyle for special occasions braids are put together with pins to give the crown type shape in the hairs.Making side hairs messy gives it a new unique look known as messy bangs with crown braids.You should wear it with your evening wear dresses on special occasions.
8.Low Sided Braided Bun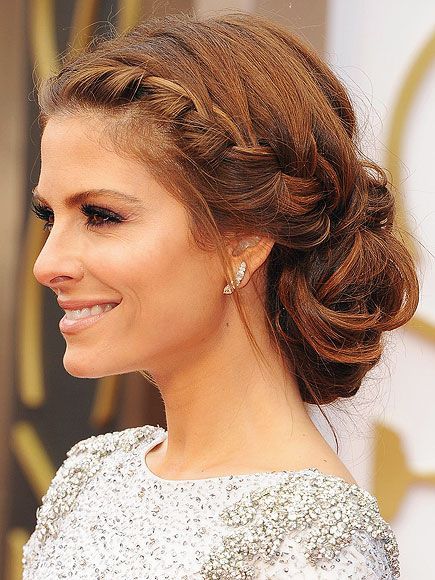 The braided bun was mentioned earlier it will look similar to the above image.But there is a slight difference these braided buns have low side hairs.In this hairstyle buns are hanging lower you can give it a messy look or keep it in the way you like.
9.Long Bangs Braided Hairstyle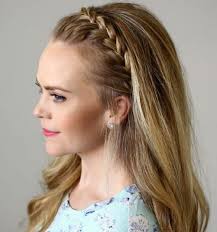 This one is for girls having long hairs although braids do not have much part to play in this still it's a braided hairstyle because braids are giving it the beauty.You just have to make braids on your upper hairs and leave the side hairs hanging long like messy.It can be worn anywhere casually and formally with any dress of your choice.
10.Braided Band
Braided bands are similar to braided long bangs in this one you have to make band type design in your hairs with braids.Rest of the side hairs can be like hanging messy.It is one of the casual and formal hair looks that you can wear in school parties or while going out with friends.
11.Hippie Braid
This is again one of the vintage hairstyles that are still in fashion and will always be there.It is inspired by bohemian and hippie culture very easy to do you just have to make braids on one side and pin it on the other side around your forehead.You should have long hairs for this hairstyle.
12.Open Hair Braids Casual Style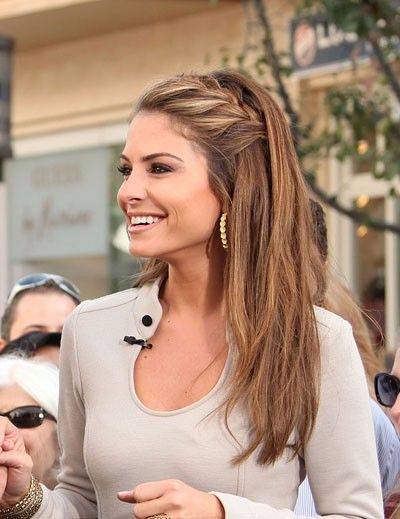 Open hair braids are similar to messy and band braids just make the braids on upper area and leave the rest of your hairs as it is.It is a casual hairstyle which can be worn while going to school or college.
13.Simple Side Braid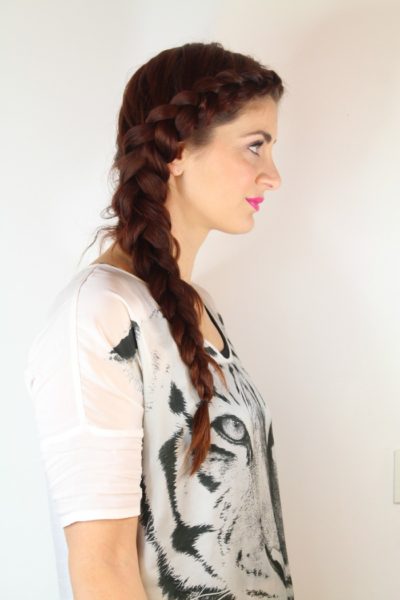 Side braids can be done on both side it will depend on the length of your hairs also it should be long.It is another casual hairstyle that can be worn anytime even with a fancy formal dress.
14.Bun with Braided Band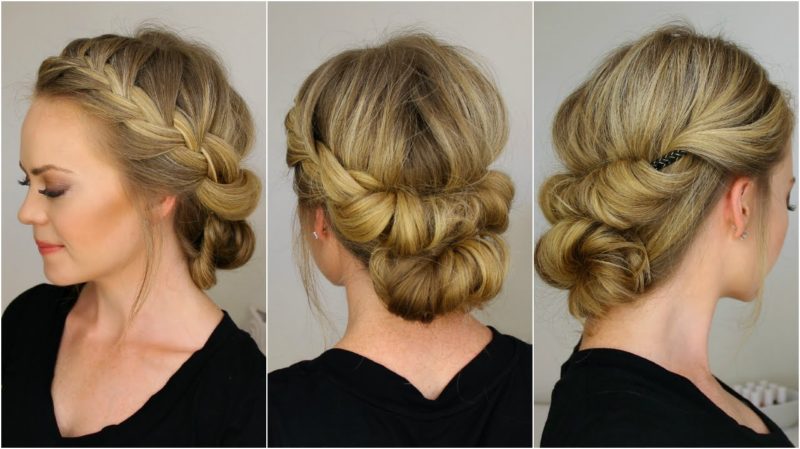 A combination of two hairstyles braided band and bun both of them have been shown earlier.You can make the braided band on the upper side and bind them all together with buns.
15.Fishtail Braided Bangs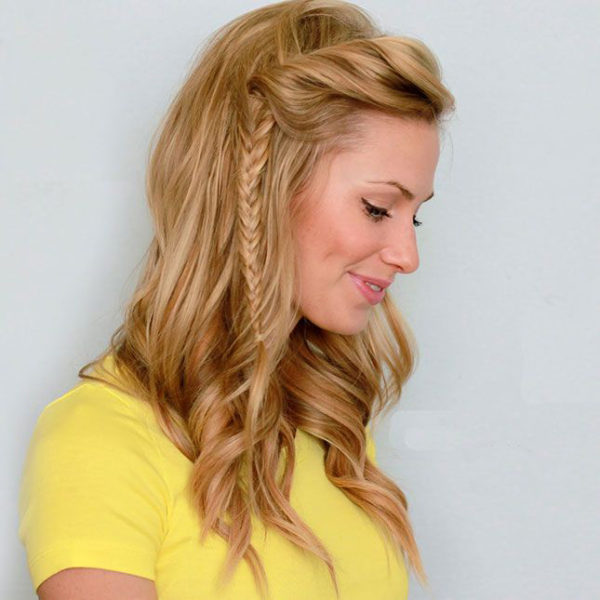 If you like giving a loose to your hairs but still want to try the fishtail like the one you have seen earlier.Then you can have one side hanging in fishtail and leave rest of the hairs messy.This can be worn on casual occasions with your casual outfits.
16.Dutch Braids with Bohemian style
This one is another bohemian braids but it is mixed with dutch braids which are a casual braided hairstyle you can have any time.You can wear this hairstyle anytime anywhere you like with casual outfits.
17.Messy Crown Braids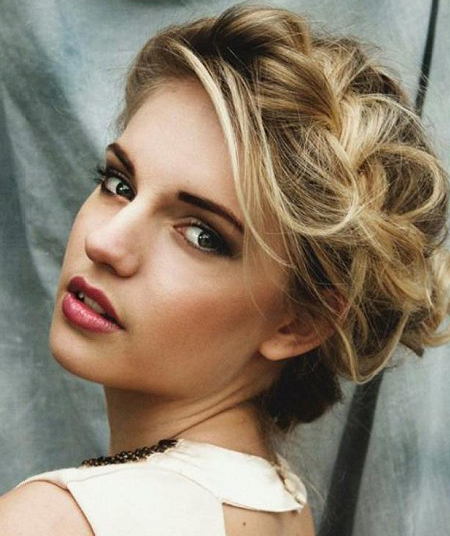 Crown braids have been shown earlier this one is more easy part of it.You can make it in just minutes just pin your hairs to make a crown on the top with messy hairs around.Can be worn with any casual outfit in any season.
18.Double Dutch Braid
These hairstyles are worn by sports girls who does not want their hairs to distract them while playing.Two different sides of braids are done from the back you can hold both of them together with a pin or leave them hanging.
19.Pull-Through Braid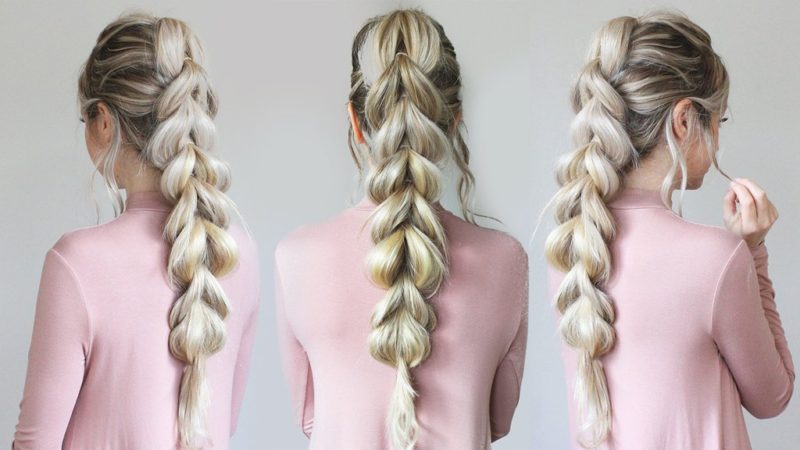 This one will look similar to ponytail but it's different because you need to first tie your hairs into the high ponytail.Then divide your ponytails into two sections you can use elastic to secure your hairs and pull it through the middle area.Braid till the end and you will have the Pull through braids.
20.Low Knot Braided Hair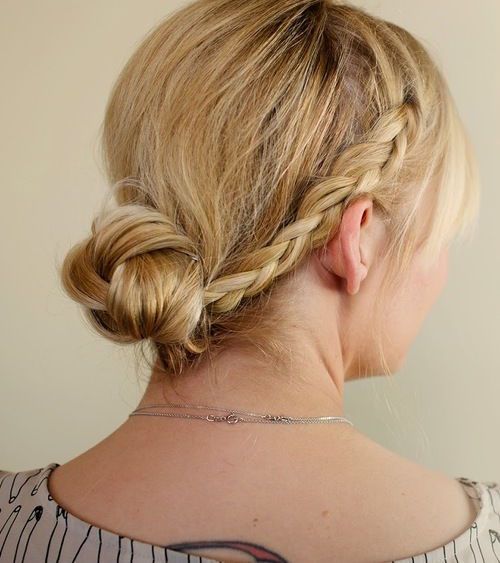 This one is similar to braided bun but it has a small bun at the end with braids around carrying it.One of the quickest hairstyle to try on any occasion with any type of dress.
21.Milkmaid Braids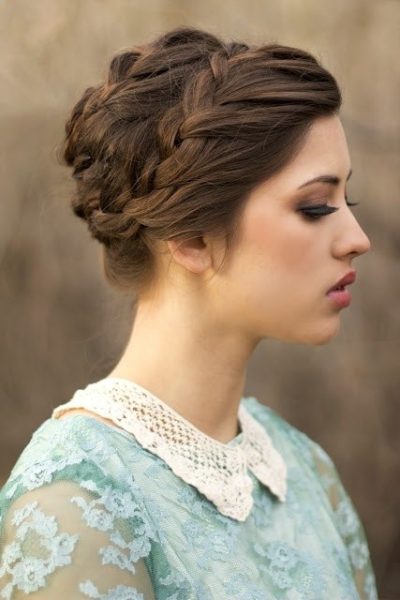 This is one of the vintage braids hairstyles that has come again in fashion nowadays.It will give you a relaxed look during the summer time and it's easy to try it will look similar to some of the above-mentioned braids but have its own uniqueness in style.From casual to formal and from school to job you can have this hairstyle with any outfit.
22.Messy Braided Ponytail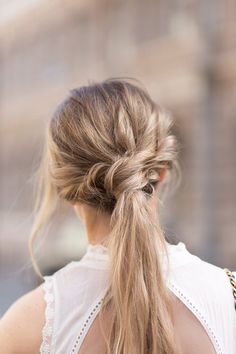 Ponytails are of many types we have already shown you braided ponytails and this one is a simpler version of it messy braided ponytail.Very easy to do just make a ponytail in messy form and leave other hairs messy.A ponytail can be side swept on either side are left it at the back.
23.Macrame Braids
This one is a bit simpler and harder from some of the above braids.It can be worn by both long haired and short haired girls.In case you are bored from the above-mentioned hairstyles try this one with your fresh new dress.
24.Wired Braids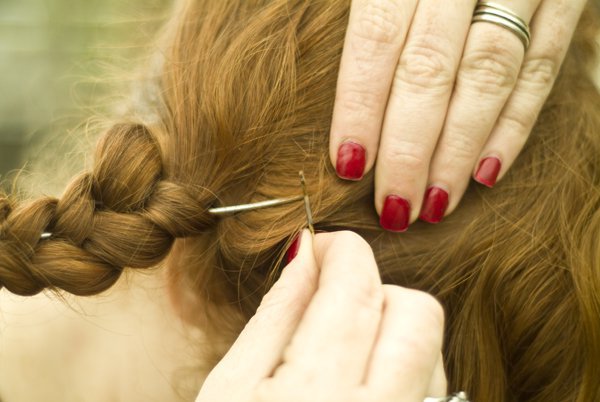 In this braids, the wire is used to make the braids tight and strong on either side.You can have a strongly braided hairstyle using the wired in your hairs.
25.Braided Bangs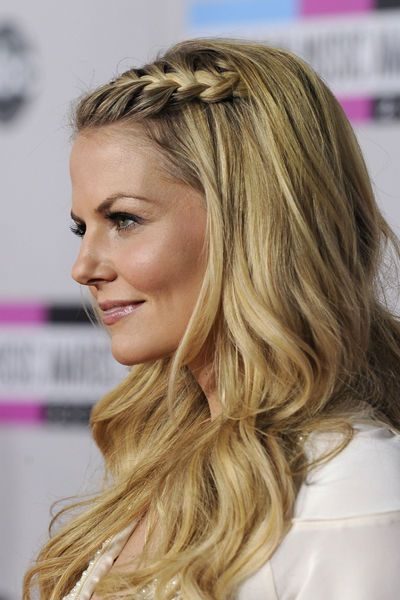 Braided bangs are basically a combo of two hairstyles you can make braids of any type like in the above image we are showing you crown braids and let the both side hairs in messy forms which are known as bangs.You can wear this hairstyle on formal occasions with your special occasion formal dress.
26.Twist Braids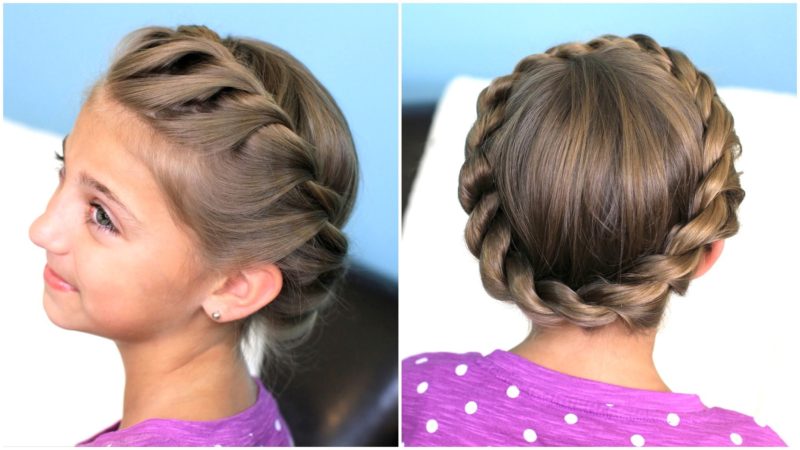 Twisted braids can be done on any braided form of hairstyle you just need to twist your braids in the above image twisted braids are done to make a crown braided hairstyle.This one is best for young and teen girls for their school parties.
27.Pull Out Hair Braids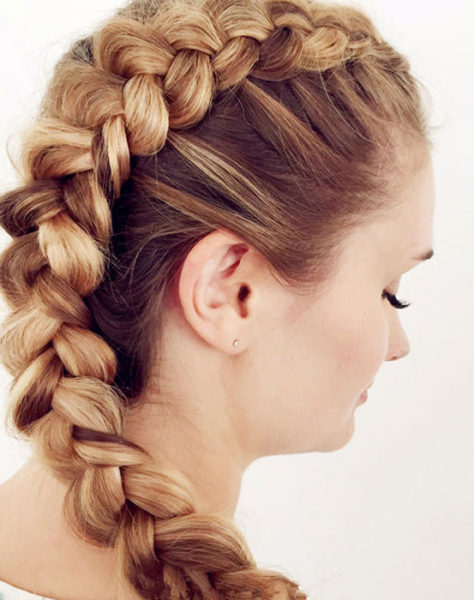 The earlier pull out was with fishtail but this one is different it is more neat and easy you don't have to pull much of your hairs just keep them simple and twisted.It can be worn on casual occasions or in the home.
28. Messy Hair Braids
This one has been shared on stylevilas.com many times but because of its simplicity and easiness, we are sharing it again with different style.On the low end it has a ponytail style and on the upper side, it's messy with some twists.If you are a young teen girl then you should definitely try these in your daily routine.
29.Pulled Back Crown Braids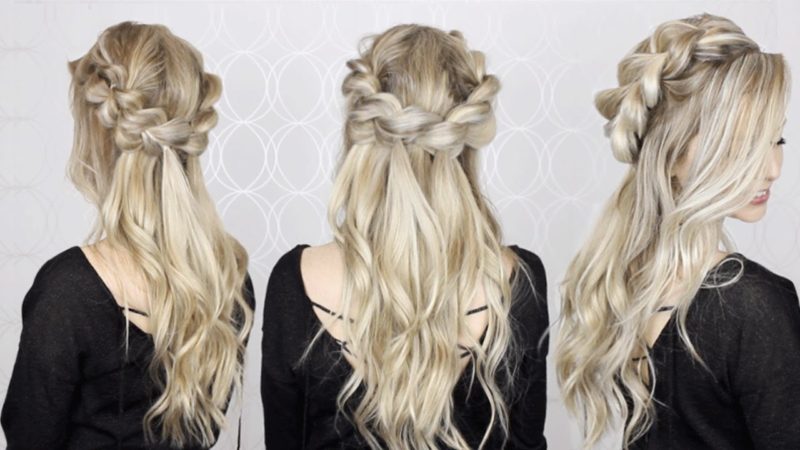 In this case just pull back your braided crowns and you will have a different look if you are bored from crown braids but still, want to have some kind of it in your hairstyle.It is for special occasions and wear it with your evening wear gowns.
30.Plaited Hair Updo Braids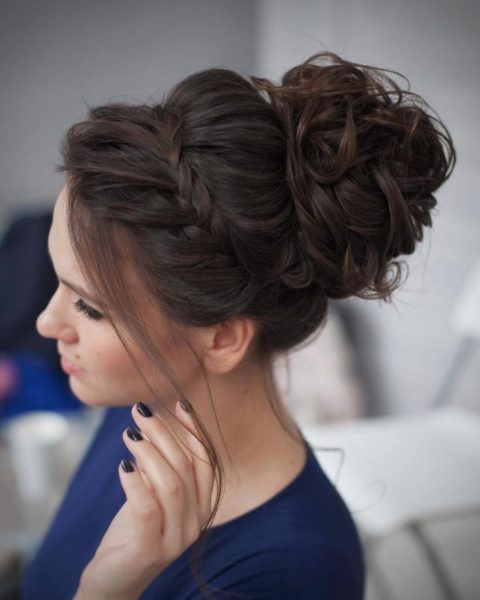 It isn't bad to choose if you are bored from braided updos then try pleated braided updos which look very similar to updos braids.From summer wedding nights to cocktail parties with any type of special occasion dress, this braided hairstyle will make your appearance unforgettable to others.
So these are 30 Easy Braid Hairstyles that you should be trying this season till the winter.While most of them are for all seasons some of the braids are for summer only.Suitable for both long and short haired girls do try them on your special occasions.