Threadz Spring Men Collection are the casual colorful shalwar kameez dresses for boys that you can wear in spring season casual routine check all the designs.
You must have seen Thredz clothing for women all the brand's collections are in traditional Pakistani style.Now for the spring season Threadz have launched Threadz spring men collection which is the cotton shalwar kameeez in different colors.
These shalwar kameez dresses have neck wrappers or mufflers you can call them.This is the first time Threadz have designed for men before that they were famous for bridal wear,pret wear,formal wear clothing line.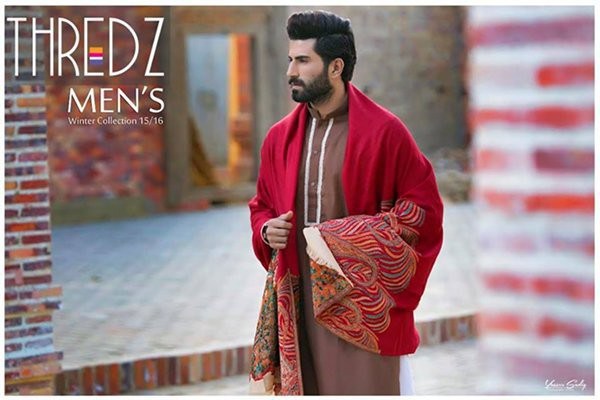 As this is the first collection for men which you will see in the gallery below wait for some more collections in the upcoming seasons.The shalwar kameez dresses in this spring collection most of them are kurta shalwar.
The length of the kurta is medium which is mostly used in men clothing.To make your look more stylish you can wear any of the shown kurtas with jeans most of the boys doing that.
These are spring season kurta shalwar but you can wear them in winter too that's why you are seeing neck wrapper with them.A neck wrapper is used to cover neck so that it may not feel cold breeze.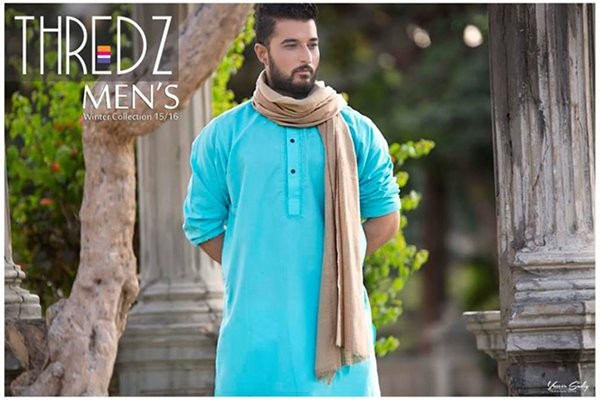 In Pakistan these types of clothing materials have so many names like in villages men take long chadar.Which covers the full body and on the city side men take mufflers or scarves of these types that are only designed for men.
You can make a knot tie type shape of these scarves to make these more appealing and stylish according to your personality.Most of the kurta's in Threadz Spring Men Collection are in plain design but there are some which have neckline border area work.
See More:-Men's Spring Dresses Amir Adnan
You can wear any of the shown Threadz Spring Men Collection dress while traveling or going out somewhere even on wedding day events.Check all the designs shown in Threadz Spring Men Collection image gallery and decide which kurta shalwar you want to wear.
Threadz Spring Men Collection Pix