Saiid Kobeisy Fall SK Collection is combination of evening wear gowns and short dresses that can be worn on parties and special events.
Fall season is not far away brands and designers have already started showing their winter collections you must also be ready for events coming up in the winter.
Every season event demands different types of dress designs can be same but fabrics will be different because of the weather conditions.
Saiid Kobeisy Fall SK Collection 
Saiid Kobesisy is from the land of evening wear dresses Lebanon his designs are famous because of cultural and modern art work.He is expert in both fields of classic party wear dresses and modern dresses.
His passion for designs and fashion started from the young age and he always wanted to own his brand where he can design dresses according to his style and innovative ideas.
His brand and designs are reflection of his thinking of what he wants to achieve over the years he have shown his great art work in dress designs.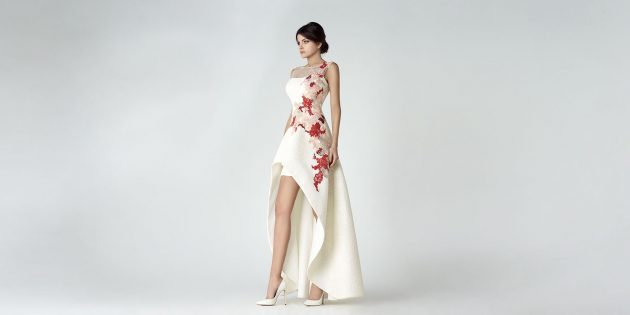 This collection is mix of classic and modern design patterns you can wear these dresses on wedding parties,night events and social gatherings.
Choices of dresses are so many unlike his last collection which consists same type of dresses this time for winter season he have given variety to his customers where you can choose dresses in different colors and patterns and designs.
He launched his first collection in 2002 not much years have gone and now he have become the evening gown sensation designer his collections are worn by some of the celebs on red carpet events.
He is famous all over the world from USA to UK and all the including the Middle East some designs reflect Arabian fashion.So lets see Saiid Kobeisy Fall SK Collection from the following gallery and see what will be in stores for you.
 See More:-Ready To Wear Sailor Sensuality Collection