Ready To Wear Summer Collection Maria B Dresses are formal and casual wearing traditional dresses for Pakistani women check out all new designs from gallery.
Maria B one of the top elegant dress designer of Pakistan have launched her new ready to wear dresses for spring and summer season.All the dress types are stylish and can be worn any where you like because of the beautiful luxury style printed work these can be categorized as formal wear dresses.
This is how Pakistani clothing is casual collections are like formal dress designs because its based on printed and embroidery work.As mentioned in the title all the dress types are in ready made forms so you don't have to spend extra money on stitching of these dresses.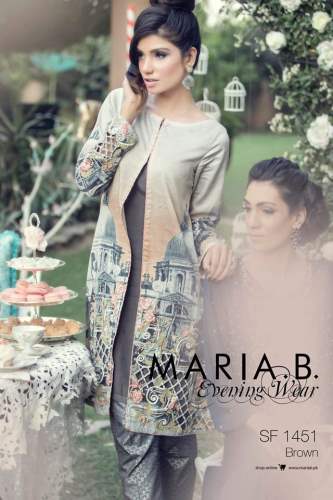 Because these are already available in various sizes and types that can made your styling much fast because you just have to buy the dress according to your size.Maria B is famous for designing such kind of dresses which are perfect for evening wear,as a dinner dress or a party dress.
Her bridal collections are famous too because of jeweled embroidered work she have done in most of her collections.This collection is not based on one type of format of traditional dresses you will find 2 piece and 3 piece dresses as this is for the summer season that's why all outfits are in cotton fabric.
Some other fabrics are used but all are made from cotton which is a must wear fabric in hot season of Pakistan.This collection have kurtis,open jacket shirts,printed shirts which you can wear on any special events in coming months.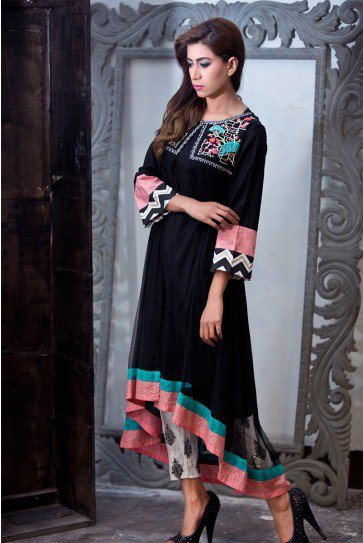 You can also categorized these dresses as fancy traditional wear because of such quality printed and design work you may not find from any designer.All the designers are different from one another because everyone tries something unique and summer is the season to launch some new type of clothing.
Which you can see in Ready To Wear Summer Collection Maria B Dresses we have collected some of the images for you to look at the complete collection log on to Maria B website.
See More:-Faraz Manan spring summer lawn