Bonanza Silk Party Wear Dresses Satrangi Collection is for the summer season that every women looking to style in traditional way can wear them.
Bonanza have introduced different fabrics in their Satrangi collection we have already shown you chiffon shalwar kameez dresses.With chiffon Bonanza have also launched silk dresses which is also not much of soft fabric but still its being worn on special occasions.
Lawn is the overall used fabric in every dress type in summer season but Bonanza have tried different fabrics because they have launched various patterns of dresses.
All the dresses types of this collection is in three piece forms dresses are in silk fabric but its not winter silk.This silk is lighter and you can wear in hot temperature when you are going to some event because its mixed with cotton.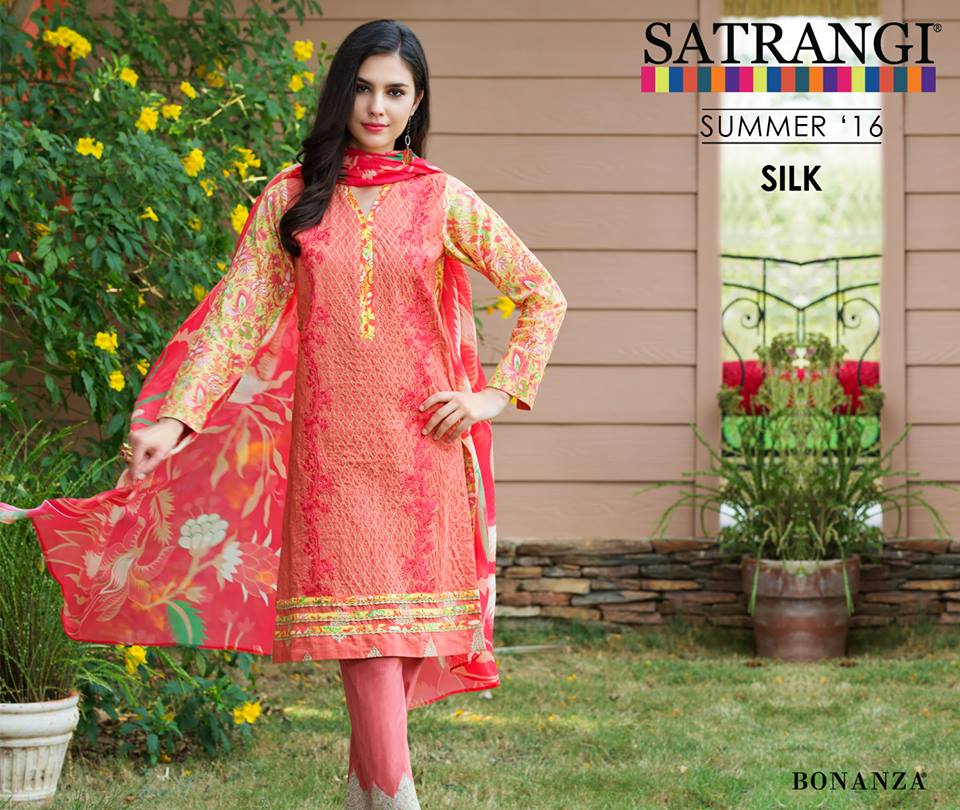 Silk shalwar kameez is always the good choice on events because its the first choice for women otherwise there are some fancy silk dresses available in the market also.
But Bonanza's main focus in their Satrangi collection is always on traditional dressing for women they got famous because of western style clothing.Winter clothing in western style was started by Bonanza many years ago as they got famous they are now into traditional clothing.
Satrangi collection is not only for summer season you must have seen their winter prints also which were fabricated from different fabric.You will find more charming embroidered patterns then the previous chiffon prints because silk is always used in special occasion wearing.
There is not much options only limited dress designs are available because Bonanza's main focus will be on lawn which we will be sharing in future post after this.
If you want to make your summer events more special then you should wear any of the outfits of Bonanza Silk Party Wear Dresses Collection lets see all the prints and then you can buy online from their website.
See More:-Bonanza Satrangi Chiffon Summer Collection